Centrifuge Machine for Dog Breeders! Several Types to help You Take Control Of Your Testing!
Centrifuge Machines for dog breeders from CanineP4!
Fast same day shipping with low pricing and technical support when you need it! Learn more about mini centrifuge machines, battery operated units, or larger clinical units depending on your needs and testing type!
Over 700 (and counting) Happy Customer 5 Star Reviews ⭐️⭐️⭐️⭐️⭐️! 30 day return policy! And More!
Get ongoing Professional Support, and Training! Learn more here!
Clinical Centrifuge Adjustable Speed Multiple Tube Types
Simple yet advanced, this centrifuge will process blood with ease!
A transparent lid allows safe viewing of samples under centrifugation, with a safety lock to prevent opening while spinning. Setting the time and speed is as simple as turning the knobs until the screen displays the desired time and speed!
-Adjustable from ultra-low 100 RPM rotation speed all the way up to 4000 will allow you multiple uses from this device including serum and semen processing. --
-Adjustable spin time of 1-100 minutes allows you to set the time, place the samples in, start and walk away. 
-Measuring at 10x10x8.5 inches high, this unit saves space and reduces clunkiness.
-Features an 8 position rotor with adaptors included for shorter 2-4mL 75mm tall vacutainers and sterile tubes, as well as a set of adaptors for 2mL snap-cap microcentrifuge tubes.
-Fits up to very large 20mL tubes.
-ISO Certified device with an expected lifespan of 10 years under normal use. 
Questions?
Call 844-6737378
Tomy Multi Spin Battery Operated Micro Centrifuge
Tomy Multi Spin Battery Operated Micro Centrifuge
Take your samples on the go with this quality Japanese built - battery powered centrifuge. Includes wall plug for wall power as well, switch seamlessly between the two. Uses 4 replaceable AA batteries.
Extremely cost-effective battery powered option from a High Quality Japanese manufacturer! Simply load your samples, close the lid, and return 5-6 minutes later for a clean spin.
Centrifuge comes backed by our standard 6 month warranty.
Features and Specifications:
Includes AC Adapter with 5 plug-in adapters for global use (Single-Phase AC100-240V, 50/60Hz 0.6A). Includes rotors for 8 PCR tubes (1.5 / 2 mL Eppendorf-style) and 2 PCR strips (0.2mL x 8).
Specifications: 6,000RPM (±20%) or 2,960G with MA-1 rotor; 6,200RPM or 2,960G with PA-1 rotor.
Timer Function: 6 minutes, automatic stop
Safety Features: Lid opening interlocking brake, overcurrent fuse, motor over-current detector (motor lock, balance)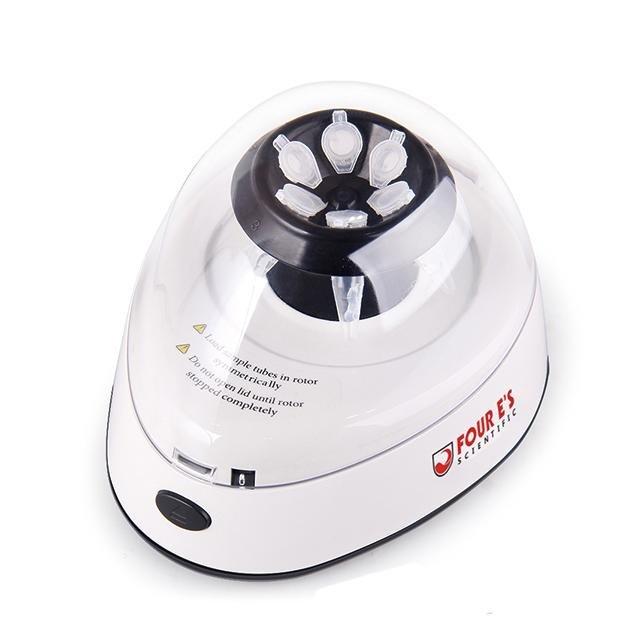 Micro Centrifuge Blood Spinner
Micro Centrifuge Blood Spinner
Spin blood down into serum with ease! Enclosed design, excellent dynamic balance. Super quiet! Being a service company we test every product we sell to our customers. USE these 2ml Tubes
Our 6-month replacement warranty has got you covered, which also includes training help and troubleshooting support.
Features and Specifications -
0.2mL/0.5mL/1.5mL/2mL Tube capacity.  

Max. Speed [rpm]:5400

Max. RCF [x g]:2000

Input:100-240VAC, 50/60 Hz

Output:24VDC, 2A

Run time: Continuous operation

Driving motor: DC motor

Rotor capacity :0.2ml/0.5ml/1.5ml/2.0ml Tube capacity x 6 (Circular); 0.2ml Tube capacity x 16PCR (Strip); 0.2ml Tube capacity x 2 PCR 8 (Strip)

Noise level:≤50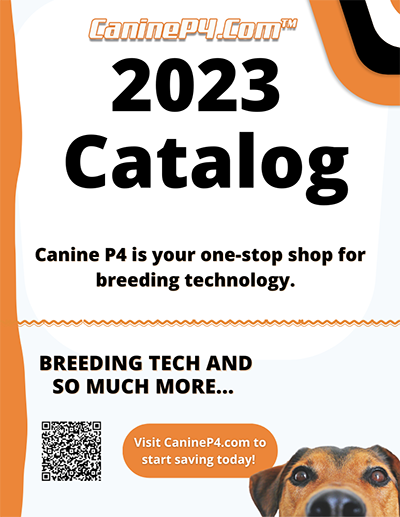 NEW! Digital Full Function PDF Catalog from CanineP4!
Centrifuge Machines for Breeders are available in our PDF Catalog.

Down load and save to your computer desktop

All of our products with QR Codes and links direct to the CanineP4 Website! So easy to shop all of your products!

Download and pass the PDF to friends and family!

Easy to use with product collections indexes to find what you need fast!

This catalog will be updated quarterly with new products. Come back and check it out.