Hypothyroidism in Dogs.
Dog Breeders, You Need to be testing T4….
Hypothyroidism in dogs symptoms are listed below. Hypothyroidism is a common condition in dogs that occurs when the thyroid gland does not produce enough thyroid hormones.
Hypothyroidism in dogs symptoms.
Here are some signs that your dog may have hypothyroidism:
Weight gain: If your dog is gaining weight despite being on a healthy diet and getting regular exercise, it could be a sign of hypothyroidism.

Lethargy: Dogs with hypothyroidism may be less active and have a decreased interest in playing or going for walks.

Hair loss or thinning coat: Hypothyroidism can cause hair loss or thinning of the coat, especially around the tail and hindquarters.

Skin problems: Dogs with hypothyroidism may have dry, flaky skin, and may be prone to skin infections.

Intolerance to cold: Hypothyroid dogs may be more sensitive to the cold and seek out warm places to lie down.

Skin Pigment becomes increasingly dark.

Increased occurrences of ear infections.

High blood cholesterol.

Slow heart rate
If you suspect that your dog may have hypothyroidism, it is important to take them to the vet for a proper diagnosis. You can also do in house T4 tests first using the Finecare and CUBE-VET in house health monitoring systems. Use the T4 tests on these analyzers as a technique to get a preliminary result then confirm it at your Veterinarian. If your in house testing is indicating your dog might have a problem its time to get them to your veterinarian to confirm and get treatment.
You care about your dogs, not only are they family but at this point they are also an investment, and you put countless hours and effort into ensuring your breeding practice is humane and ethical. There are several things we consider Foundational tests for dog breeders, and this is one of them...
Start testing your fury friends for T4 (Thyroid disorders). Put briefly, T4 or Thyroxine, is a hormone produced by the thyroid gland in mammals. It has immense impact on general health as it directly affects metabolism, which in turn has a great downstream affect on many other functions including reproductive health. As a dog breeder this is incredibly important…
Routinely perform T4 tests now available on the Finecare and CUBE-VET (more on that later). Not only do Thyroid disorders disrupt general health and your dog's quality of life but it has also been shown to drastically disrupt a bitch's reproductive fitness, leading to abortions, smaller litter sizes and less healthy puppies. It can even lead to infertility in male dogs.
We consider T4 a foundational test, especially when you are trying to solve the mystery of why the bitch isn't pregnant. The male or female may have undiagnosed thyroid problems.
Point is, T4 testing as a general health test Is a great idea but should be considered a requirement for your stud and dames especially if you have this type of dog….
Breeds with Thyroid Disorders…
Thyroid disorders can affect all types of dogs but is generally more common in medium to large dogs including but not limited to;
Akita

Beagle

Boxer

Pitbull

Dalmatian

English/Irish Setter

Dachshund

Golden Retriever

Cocker Spaniel

Doberman Pinscher

Miniature Schnauzer

Airedale Terrier

Irish Setter
If you breed or own one of these breeds, we recommend T4 testing your dogs to ensure they are healthy and reproductively capable especially if you are planning on breeding them.
Testing on the Finecare Vet...
The Finecare Vet is more than a Progesterone machine, now test T4 (with other tests on the way) on the Finecare, same great reliable results, same unbeatable price!
Testing T4 on the Finecare is easy, utilizing the exact same procedure as the progesterone tests. Add T4 to your Finecare testing and save.
Plus, it now comes with the Canine P4 certified reading chart (we made the progesterone chart), so you can be confident in your results.
As with any POCT analyzer such as the Wondfo Finecare, the reference ranges established will not be identical between any two different instruments, and that instrument's reference range or chart should be consulted when performing testing on that machine. For comparison, Idexx Laboratories distinguishes normal as 1.0-4.0 when testing with their analyzers (6).
T4 can also be easily tested on the industry leading CUBE-VET, Immulite 1000, V-Check V200 and Mini Vidas, and of course at your local vet's office.
.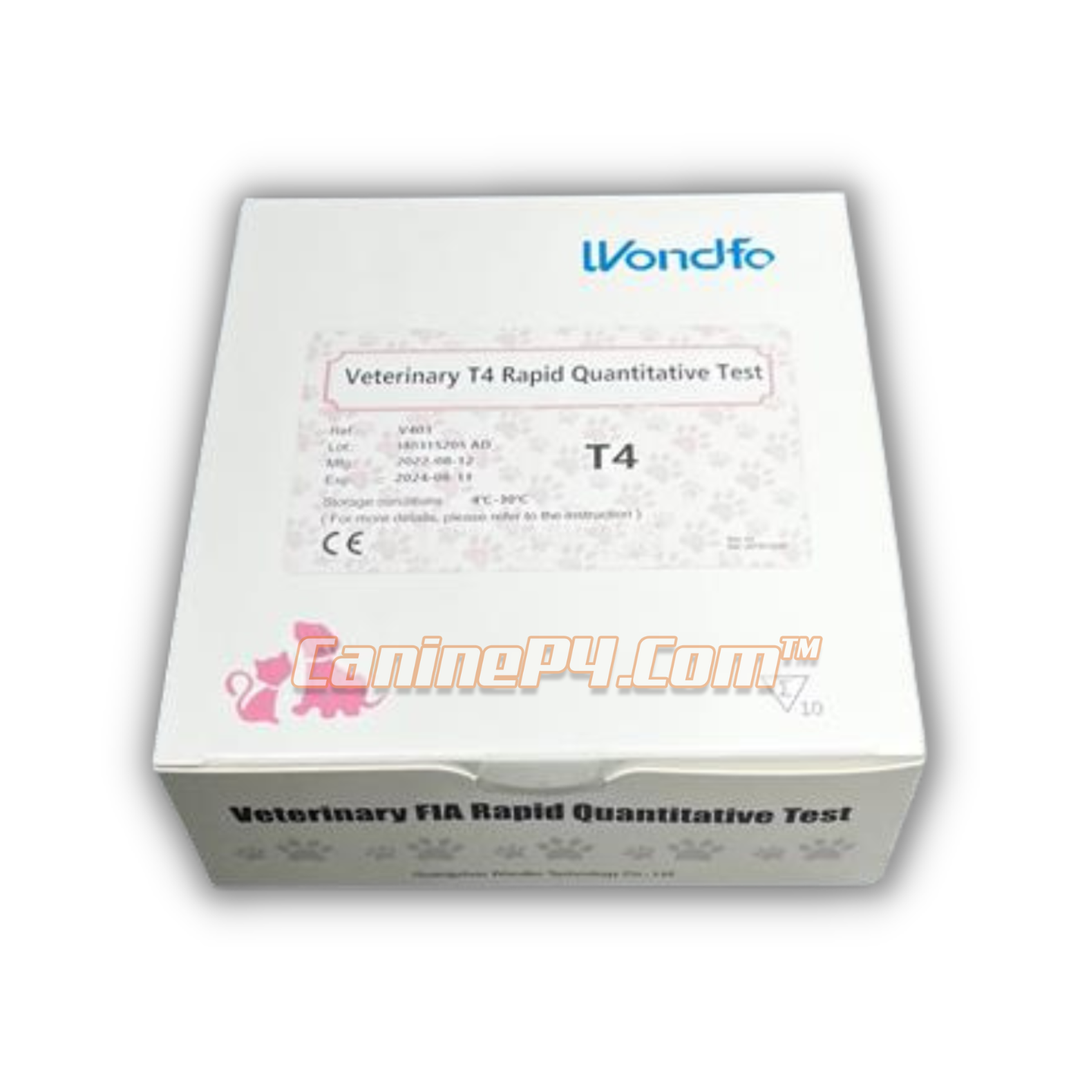 Symptoms...
Thyroxine directly effects metabolism. As such, low thyroxine levels are often visualized through lethargy, cold intolerance, hair loss, and weight gain. High thyroxine levels can manifest with weight loss, hyper-excitability, and heart diseases. Thyroid disorders, an endocrine system, are common in dogs, particularly Akita, Beagle, Golden Retriever, Dachsund, Doberman Pinscher, and Cocker Spaniel breeds (4).
Thyroid disorders, especially hypothyroidism, can also have a drastic effect on reproductive bitches, and can contribute to reproductive issues including abortions, irregular heat cycles, and poorer overall health. A study documented that hypothyroid bitches produced mores till-borns, lesser pups, and lower birthweights in puppies from mothers with documented hypothyroidism (3).
Types of thyroid disorders…
Incorrect thyroid levels are distinguished in two ways: hypothyroidism, and hyperthyroidism. As the prefixes suggest, hypothyroidism is low levels of serum T4 (thyroxine). As evidenced in canineP4.com's chart, derived from testing a normal population of females within their estrous cycle, this would be a result below 1.5 ug/dL (approximately 19 n Mol/L or lower). Low levels of T4 may be found paired with high levels of TSH, or Thyroid-Stimulating Hormone Hyperthyroidism is levels of thyroxine in the blood that are too high, or above average. This would be values above 3.3 ug/dL (or approximately 42 or higher n Mol/L).
Further testing at a veterinarian clinic would be required to diagnose either hypothyroidism or hyperthyroidism, and this test stands as a screening tool to test for these common disorders. A licensed veterinarian may prescribe something such as levothyroxine for hypothyroidism.
Test your dogs for T4 not only to ensure they are healthy and happy but also to safeguard your breeding business. Now available on the Finecare Vet, incredibly affordable and easy to use.
J
Jose Ceballos
(Pittsburgh, US)
Great product and easy to use
Saved a ton of money using these to confirm my females. Great product and easy to use
L
Lizette Corona
(Coalinga, US)
D
Dalaina Smith
(Pittsburg, US)
Quick Shipping & Easy to Use
Saves us a ton in vet bills & helps to ensure pregnancy! Appreciate the wonderful customer service & quick shipping!
S
Sharon Sintra
(Millersville, US)
works
test works as described - follow the instructions they perfect
T
Tirrell Grace
(Dallas, US)
Saves money
Came on time and works This is what we needed.
Works Cited
(1) Williams,K., & Ward, E. (n.d.). Hypothyroidism in dogs: VCA Animal Hospital.Vca. Retrieved January 26, 2023, fromhttps://vcahospitals.com/know-your-pet/hypothyroidism-in-dogs
(2) Symptoms& treatments for hyperthyroidism in dogs. Causes,Symptoms & Treatments for Hyperthyroidism in Dogs | Southeast Memphis Vet.(n.d.). Retrieved January 26, 2023, fromhttps://www.southwindvets.com/site/blog-southeast-memphis-vet/2020/11/25/symptoms-treatments-hyperthyroidism-in-dogs
(3) Panciera,D. L., Purswell, B. J., & Kolster, K. A. (n.d.). Effect ofHypothyroidism on Reproduction in Bitches. VIN. Retrieved January 26, 2023,fromhttps://www.vin.com/apputil/content/defaultadv1.aspx?pId=11262&id=3865797&print=1
(4) Burke, A. (2019,November 19). Thyroid disease in dogs. American Kennel Club. RetrievedJanuary 26, 2023, from https://www.akc.org/expert-advice/health/thyroid-disease-in-dogs/
(5) C.Smallridge*, R.(2013, October 21). Thyroid hormone effects on the heart. Hearts andHeart-Like Organs. Retrieved January 26, 2023, fromhttps://www.sciencedirect.com/science/article/pii/B9780121194024500099
(6) Laboratories, I.(n.d.). Total T4 Testing Guide: Canine Hypothyroidism. Idexx Laboratories.